Social networking, back in your hands
Follow friends and discover new ones among more than 4.4M people. Publish anything you want: links, pictures, text, video. All on a platform that is community-owned and ad-free.
Mastodon isn't just a website, it is a federation—think Star Trek. Thousands of independent communities running Mastodon form a coherent network, where while every planet is different, being part of one is being part of the whole.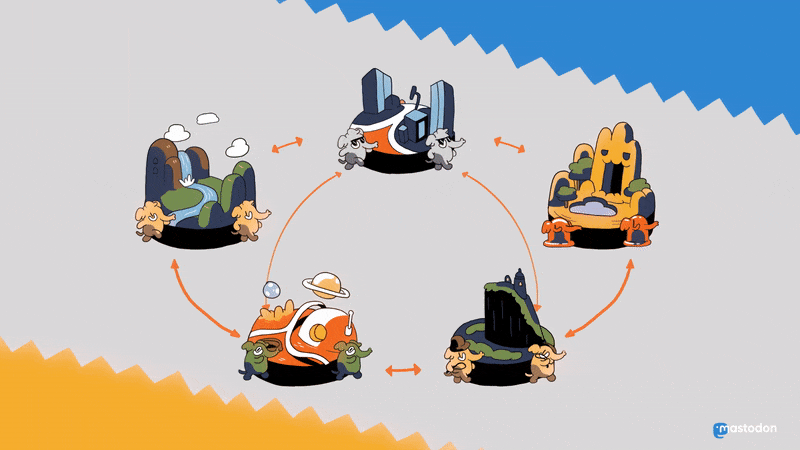 Mastodon comes with effective anti-abuse tools to help protect yourself. Thanks to the network's spread out and independent nature there are more moderators who you can approach for personal help, and servers with strict codes of conduct.
Sharing your thoughts has never been more convenient
You have 500 characters. You can adjust the thumbnails of your pictures with focal points. You can use custom emojis, hide things behind spoiler warnings and choose who sees a given post. Messed it up? You can delete & redraft for quick corrections.
Mastodon for the individual
Without an incentive to sell you things, Mastodon allows you to consume content you enjoy uninterrupted. Your feed is chronological, ad-free and non-algorithmic—you decide who you want to see!
---
What is Mastodon?
Mastodon is a free, open-source social network server based on ActivityPub where users can follow friends and discover new ones. On Mastodon, users can publish anything they want: links, pictures, text, video.
All Mastodon servers are interoperable as a federated network (users on one server can seamlessly communicate with users from another one, including non-Mastodon software that implements ActivityPub)!
---
Features
No vendor lock-in: Fully interoperable with any conforming platform
It doesn't have to be Mastodon, whatever implements ActivityPub is part of the social network! Learn more
Real-time, chronological timeline updates
See the updates of people you're following appear in real-time in the UI via WebSockets. There's a firehose view as well!
Media attachments like images and short videos
Upload and view images and WebM/MP4 videos attached to the updates. Videos with no audio track are treated like GIFs; normal videos are looped - like vines!
Safety and moderation tools
Private posts, locked accounts, phrase filtering, muting, blocking and all sorts of other features, along with a reporting and moderation system. Learn more
OAuth2 and a straightforward REST API
Mastodon acts as an OAuth2 provider so 3rd party apps can use the REST and Streaming APIs, resulting in a rich app ecosystem with a lot of choices!
Deployment
Tech stack:
Ruby on Rails powers the REST API and other web pages
React.js and Redux are used for the dynamic parts of the interface
Node.js powers the streaming API
Requirements:
PostgreSQL 9.5+
Redis 4+
Ruby 2.5+
Node.js 12+
The repository includes deployment configurations for Docker and docker-compose, but also a few specific platforms like Heroku, Scalingo, and Nanobox. The stand-alone installation guide is available in the documentation.
A Vagrant configuration is included for development purposes.
---